How does it work?
Congratulations! You have taken the first step towards discovering the underlying root causes of your chronic health issues. In less than 10 to 15 minutes you can discover what we hope will eventually transform your health and well-being. If you are ready, you can
take the Assessment
now! Or
take our mini-quiz
to see if the RootFinder can help you.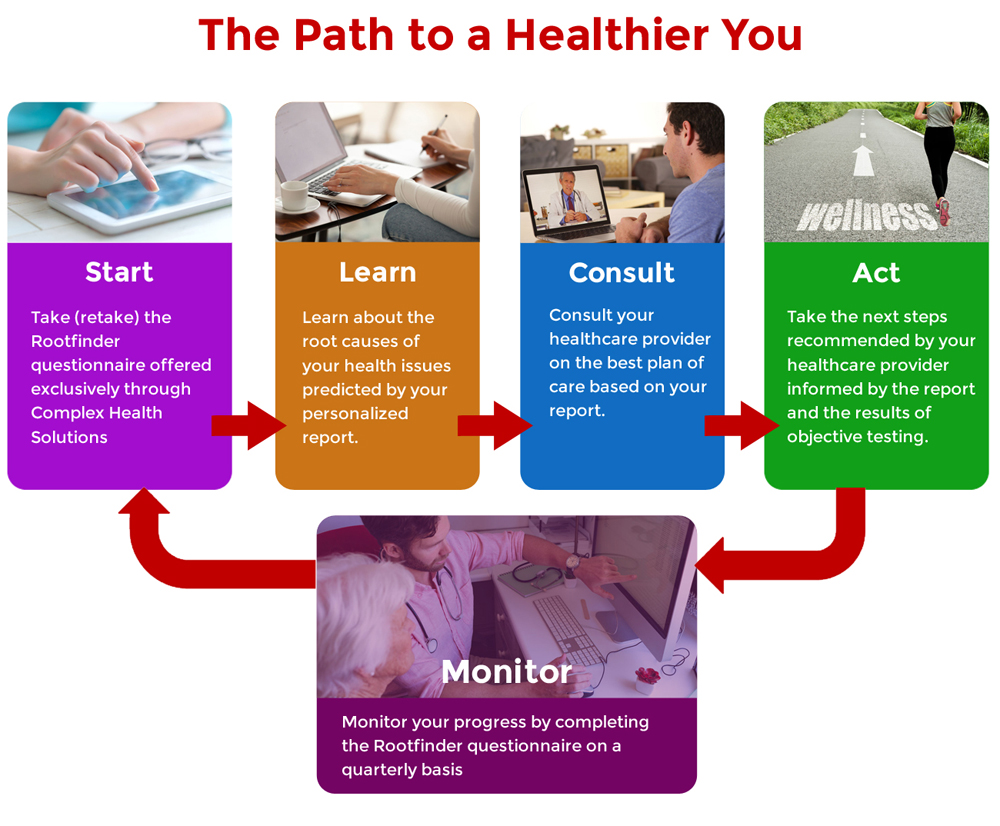 More about the RootFinder™ Assessment
The RootFinder tool uses over 100 key indicators about your health to produce a personalized report. The tool analyzes your responses to the Assessment, and identifies the most likely potential root causes of your chronic health problems. The report produced by RootFinder describes these root causes, suggests the next appropriate step, and also provides you with an
Illness Index
TM
that will help you track your improvement over time.
Our approach is the result of more than a decade of research and development. Grounded in the medical discipline of root cause analysis, our approach is better able to discover and characterize interrelated root causes of complex health conditions that must be addressed in order to regain health.
Here is a sample of questions you will be asked:

Our approach DOES NOT require you to collect a sample of your body fluid (blood, saliva, stool) and send it away for processing. At Complex Health Solutions, we believe that you know your body best. You simply answer a series of questions about your symptoms. We do not collect any personal identification information such as your name, address or phone number. Our RootFinder tool, which is evidence-based and backed by over a decade of research with patients just like you, takes all of the information and data you provide about your unique history and symptoms and matches it to the most likely cause of your ailments. This process is based in science and is proven to help patients with complex health conditions uncover the true reasons behind their suffering.
Complex Health Solutions and the RootFinder are not intended to diagnose conditions like hypertension, diabetes, obstructive sleep apnea, cancer, heart attacks, blood clots, strokes and other similar acute and chronic health problems. The goal of RootFinder is fundamentally different. The system is working to identify the underlying root causes and contributors to your health issues that can ultimately and potentially be reversed.
A partial list of the root causes analyzed by our science and data-backed RootFinder tool:
Low Cortisol
Low DHEA
Low Estrogen
Low Progesterone
Low Testosterone
Low Thyroid
High Cortisol
High DHEA
High Estrogen
High Progesterone
High Testosterone
Insulin Resistance
Pyrrole Disorder
MTHFR and methylfolate deficiency
Oxalate Problems
Copper Imbalance
Mold Toxin Illness
EBV and Chronic Active Viruses
Tick-borne Infections
Systemic Fungal/Candida Overgrowth
Heavy Metal Toxicity
Mineral Deficiencies and Imbalances
Chronic Intestinal Parasites
Limbic System Dysfunction
Mast Cell Activation
Overmethylation
Undermethylation
SIBO- Small Intestinal Bacterial Overgrowth
Th1 Dominant Immune Imbalance
Th2 Dominant Immune Imbalance
View a sample report
Most patients dedicate 10 to 15 minutes to complete the online RootFinder Assessment. For best results, we recommend setting aside dedicated time to answering each question. As you go through each question, do your best to answer in the context of your chronic health issues. You may need to incorporate how the symptoms have been over an extended period of time. Or you may need to emphasize how things have progressed to the current moment. Once you begin the Assessment questionnaire, you will NOT be able to save your progress and return at a later time to complete it. But you can always start over.
You can purchase your personalized report after you have completed the entire Assessment questionnaire, and feel comfortable to do so.
RootFinder Analysis Report
$69
$39
(over 40% discount)
Top five most likely root causes of your health issues
Your overall Illness Index™
Recommended next steps
Personalized report emailed to you within minutes
Satisfaction guaranteed. See our refund policy here
Please note:
Special pricing shown above is a limited time offer and subject to change at any time.
We encourage you to explore and take our online Assessment before making a decision to pay for your personalized root cause analysis report.
You can take our mini-quiz to see if the RootFinder could help you.
We do not collect any personal identification information such as your name, address or phone number.
Your satisfaction is guaranteed (see our refund policy here).
Take the Assessment